SALEM — The 9th annual Concorso Italiano car show, driven by Tuscan Brands CEO Joe Faro's love of prized European automobiles, boasted about 200 to 250 high-end sports cars on Sunday, its biggest lineup ever.
"There's 222 spots here and we're double-parking," Faro said.
Hundreds turned out for the event in the "piazza" between Tuscan Kitchen and Tuscan Market on Main Street to see the Lamborghinis, Ferraris, Maseratis and more. Many of the cars were modified with custom wraps and carbon fiber spoilers and some were painted in neon colors.
Tuscan Brands CEO Joe Faro poses in front of his Lamborghini Urus SUV, one of his favorite sports cars on display at the Concorso Italiano car show in Salem on Sunday, Aug. 11, 2019. The license plates on his cars are all vanity plates with a variation on the word "pasta."
Ryan Lessard/Union Leader Correspondent
The event, which Faro said began in 2011, was held just down the road from the 170-acre Tuscan Village development, which is under construction.
Faro estimated there were a couple dozen collectors represented Sunday, plus independent owners and a few car clubs like Mission 22 and 603 Speed. Owners hail from New Hampshire, Massachusetts, Vermont, Connecticut, Rhode Island and New York, he said.
"It's a great group of people," Faro said.
The developer and Italian food mogul was happy to show off some of his own sports cars, and answer questions about them from community members.
Faro said of his 10 sports cars, only his Porsche Cayenne Turbo S was missing. His Lamborghini Urus SUV and his McLaren 720S are currently competing for his favorite.
He said he's known for modifying everything he buys and said he has a network of mechanics he works with.
For example, Faro said he's souped up his Urus to 870 horsepower, and his 720S to 965 horsepower.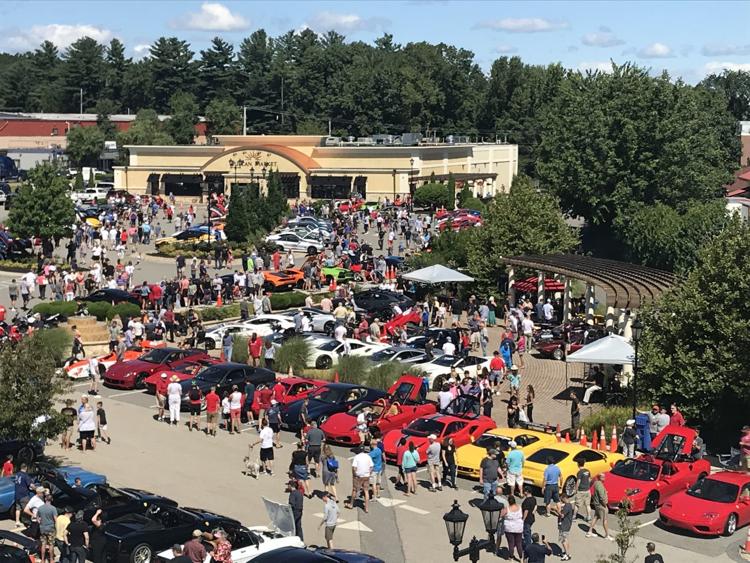 Hundreds turned out for the annual car show Sunday, Aug. 11, 2019, at the Tuscan Piazza on Salem's Main Street, which boasted more than 200 high-end sports cars.
RYAN LESSARD/UNION LEADER CORRESPONDENT
Also on display was Faro's Lamborghini Huracan Performante Spyder, a 1967 Ferrari 330 P4 restoration and a 2005 Porsche Carrera GT, which Faro said was "a very, very rare car."
The license plates on his cars are all vanity plates with a variation on the word "pasta."
Faro said the love of premium sports cars began when he was 7 or 8, drawing pictures of the cars.
"I always said if I ever make anything of myself, I'm gonna get one of those cars," Faro said.
His first purchase was in 1993, when he bought a 1988 Porsche 928 S4, which he has since sold.
Faro estimates he's owned about 50 sports cars over the years.
"I consider them works of art because of the way they're designed and the way they're put together," he said.
All told, Faro estimated the value of the cars on display Sunday at $40 million to $50 million, with an average value of $200,000 per car.
And he said it's the largest turnout the event has ever seen.
Since the start of the annual gathering, a portion of the proceeds has gone to the Boys & Girls Club of Greater Salem, he said.
To view the original article and author, click on the link above. Thanks!