Marc UrbanoCar and Driver
Spend some time at a racetrack and you'll see that drivers are a superstitious lot. While much of the driving experience is under our control, the bits that aren't are scary. So we try to cope with the anxiety in weird ways. Wait, this isn't my lucky underwear. Where are my socks with the checkered flags on them? What would I like for lunch? Same thing I'm having all week. No, I'm not defacing press cars. I'm painting four-leaf clovers on them.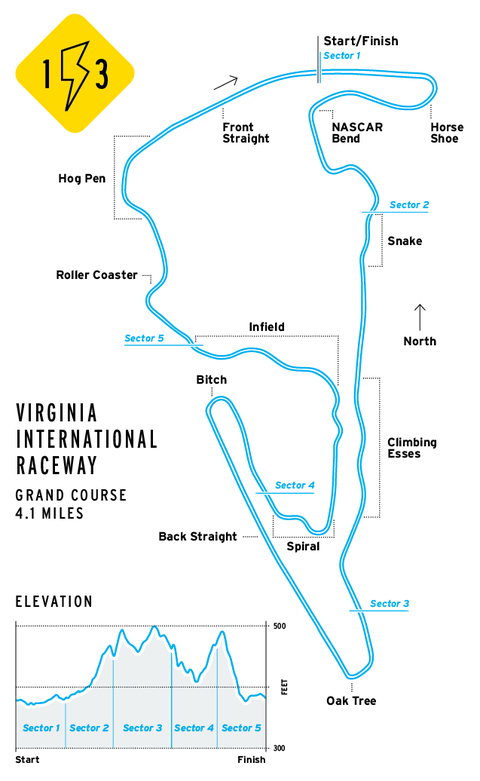 None of the C/D staffers who lap cars at Virginia International Raceway for this story are too open about their superstitions, but no one can deny that thoughtful pause before choosing underwear each morning. Undergarment choice is especially important this year, as we're on our 13th trip to VIR to lap the 4.1-mile Grand Course. For 2019, we've brought 19 of the year's hottest cars, a normcore one, and a classic from the '90s. If you don't see a Ferrari 488 Pista, a Lamborghini Aventador SVJ, a C8 Corvette, a Subaru STI S209, or a Mustang GT500, it's not because we forgot. They either weren't available or the carmakers decided they didn't want to play.
As we have done since the first Lightning Lap, in 2006, C/D editors set the lap times. Each of our five drivers is assigned vehicles to lap, but we cross-check our work by cycling into one another's cars. Doing it ourselves allows us to bring you an unfiltered firsthand experience. Well, that's the goal. It's also the three best days of the year.
As in the past, we lump cars into five price brackets, from the sub-$35,000 metal of LL1 to the super expensive machines of LL5. The biggest change this year is that we're moving SUVs into our price-based Lightning Lap categories. We had previously segregated them in the LLTruck class, but because of the proliferation and rapid evolution of these beasts, we've decided to treat them the same as cars. This year, two SUVs broke the three-minute barrier, so something has clearly changed.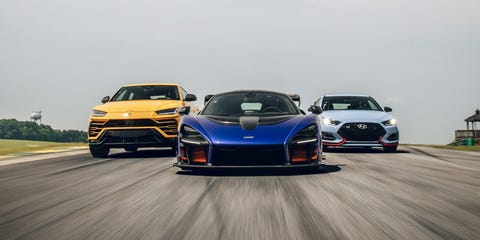 Michael SimariCar and Driver
Despite the unlucky anniversary, our luck this year wasn't too bad. We dodged a bullet with an unprecedented repair. One driver did hit a groundhog in Spiral, the downhill left-right-left complex we're now internally calling Whistle Pig, and the same guy had an exciting off in the Supra at Oak Tree when a cloudburst hit the southern tip of the track. He felt bad about both incidents, but not nearly as bad as the woodchuck felt. He probably should have worn a different pair of underwear. The driver, we mean. Not the whistle pig.

The Contenders
Click the links below for individual stories and lap videos for each car, or keep scrolling for more
Class Boundaries: LL1 (under $35,000), LL2 ($35,000–$64,999), LL3 ($65,000–$124,999), LL4 ($125,000–$244,999), LL5 ($245,000 and above)


Marc UrbanoCar and Driver
Lap Time: 3:25.3
Readers whined that Lightning Lap isn't relevant to them, so here we are, lapping a Camry. At least it's a V-6 Camry, a top-of-the-line XSE with sexy 19-inch wheels and 301 horsepower. The Camry's 3:25.3 time is perfectly respectable for a family sedan on low-grip all-season tires. A few more seconds could come off the Camry's lap, but throttle applications at corner exit are met with reluctance.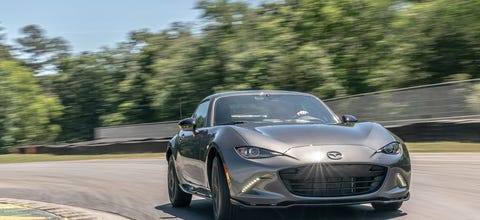 Marc UrbanoCar and Driver
Lap Time: 3:17.2
Thanks to the new 181-hp 2.0-liter inline-four engine, the MX-5 RF's lap time is 3.6 seconds quicker than that of the last Miata we lapped here. The higher redline of this updated engine means fewer shifts, too. A comical amount of body roll remains. Lean on the Miata in any tight corner and the side-view mirror threatens to eat asphalt—but it's fun.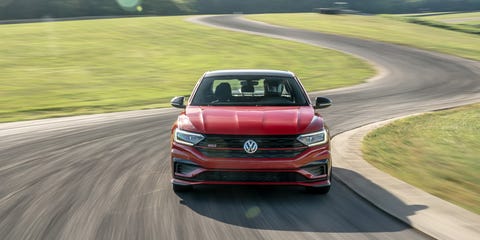 Marc UrbanoCar and Driver
Lap Time: 3:12.2
The Jetta GLI's lap time caught us off guard. The GLI shares hardware with the glorious GTI hatchback, including a 228-hp turbo four and 13.4-inch front brake rotors. The electronically controlled limited-slip differential keeps torque where it's needed, and the grippy Hankook Ventus S1 Evo3 tires allow you to go to the accelerator earlier and harder. Unfortunately, stability control cannot be fully disabled, so the trick to a quick time is smoothness and riding the edge of stability-control intervention.

Marc UrbanoCar and Driver
Lap Time: 3:07.7
The Veloster N's 275-hp turbocharged inline-four pulls hard. You can keep your right foot pinned on upshifts, and downshifts are rev-matched, so…
To view the original article and author, click on the link above. Thanks!